Fortitude Valley would have to be one of the more well known areas in Brisbane. For those whose opinions of "The Valley" was formed on a concatenation of news bites, you would be forgiven that it's a dystopian wasteland which should be avoided. The sensationalism in the media hasn't painted a favourable picture but it is one that is easily perpetuated. Provided you stay alert, don't go looking for trouble, I find the Valley a destination that more often than not can provide a night of memorable food, music and laughs. Experiences that will be remembered long after the pool of a reveller's vomit is hosed away, sometime before the sunrise kicks into gear. Visit for yourself and you will see a vibrant music scene and an endless array of bars and restaurants serving up food that agrees with any palate and budget. Renowned fine dining leans against greasy holes in the wall effortlessly. The whole spectrum in a sometimes scary, mostly rewarding, beautiful pastiche. Recently the stars aligned which meant I was able to spend two days in Fortitude Valley taking in my dual loves of food and music.
The first night was a meal with a dear friend who suggested Bianca, a trendy Italian eatery which caters to the well heeled types with airbrushed smiles and impeccable fashion sense. Me, I had just flown in from Longreach with a semi clean pair of jeans and hair that hadn't seen a pair of scissors since the start of summer. Apparently there is a waiting list longer than a packet of fettucine if it was laid end to end. But somehow she was able to convince staff to find room for the two of us. Most people's preferred seating arrangement is like a game of Othello, sitting in the corners, protected by the forgiving dim light. The staff were bordering on apologetic when we were shown to our seats which we shared with the central food preparation area. This was the ideal place for the two of us that could act as both quality assurance and gastronomy fanatic. Within arms reach we saw the relenting focus that goes into every plate, bowl and dish.
Any closer and we would have both required a hair net and apron. You needed a MBA in International Relations to decipher the menu, but thankfully my friend's year long immersion in Italy was going to pay dividends for our stomachs. She insisted in ordering in Italian so I had a simple job of not saying anything – the last thing the Italian waiter wanted on his first night was me butchering his beloved native tongue with an ill timed, "Ree-cot-eh". Their back and forwards reminded me that it is such a beautiful language the AMA should insist on more Italian doctors be allowed to work in Australia, if only to break the bad news to patients. "Mi dispiace ma ti amputeremo una gamba a causa della cancrena" has a more favourable bedside manner than "I'm sorry but we will have to amputate, your leg that is gangrene".
The ordering process was laboured. Every syllable from my friend was matched with a half smile and a touch of her hair as a subtle celebration of the young man's flawless skin and exotic accent. Was thinking to myself that she will probably need a cigarette after ordering the mains, such was the adult tension between the two. Sure he has probably seen the postcard worthy cities of Rome and Venice but you haven't travelled until you've witnessed the bloated carcass of a kangaroo on the side of the Capricorn Highway, a memory from my time in Barcaldine earlier that day. Whatever was said between the two worked a treat, the wine made a prompt appearance and was greeted with nods of approval. My nod was more confirmation that it was indeed a bottle of wine, such is my limited knowledge. Whilst our food was being prepared we were able to see the staff prep other dishes, providing some valuable intel into what the best dessert option. Mental note – choose the lemon sorbet to end the night.
First from the pass was the entrée, a bunch of sardines. These weren't the ones you see crammed into metal tins, drowned in an unidentifiable oil and bung on the supermarket shelves. Legend has it there were fed by hand by Italian supermodels. Crumbed and fried, they were unlike any smelly childhood memory. This was followed up with a tomato salad which I wish was double the size because it was one of those dishes that you couldn't help but be happy after having a chew and swallow.
Finally we got ordered a couple of pasta dishes – it's an Italian restaurant after all. I had the pumpkin cappellacci with burnt butter. These things look like little hats. From now on when anybody says they are going to "eat their hat" I am going to assume they have managed to score a table at Bianca and I am going to assume that I have been invited. My friend opted for the longest named dish on the menu, Spaghetti alla chitarra, prawns aglio e olio, which I translated to "spaghetti and prawns with some chillli". Maybe she was thinking if she could nail the pronunciation of this one that the young waiter would tear her clothes off there and then? Both dishes were amazing but I think my hat pasta outpointed her prawns.
My friend insisted on taking all the snaps for this one as she had a new phone with all the bells and whistles that she wanted to put through its paces. Only problem is the size of the files were as bloated as myself after the meal, she is solely responsible for the reduced speeds of the NBN. Single handedly these pictures managed to turn the information superhighway into a suburban cul de sac. If the pics ever manage to ascend the Great Dividing Range I will substitute the stock footage below (image below from Courier Mail") with the colourful expulsions from the latest overpriced iPhone. The ten second video above is somehow larger than 18MB and the related pictures have been orphaned, lost in the ether. Keen to get my hands on them just for to see whether my memories of the meal correlates with the photographic evidence?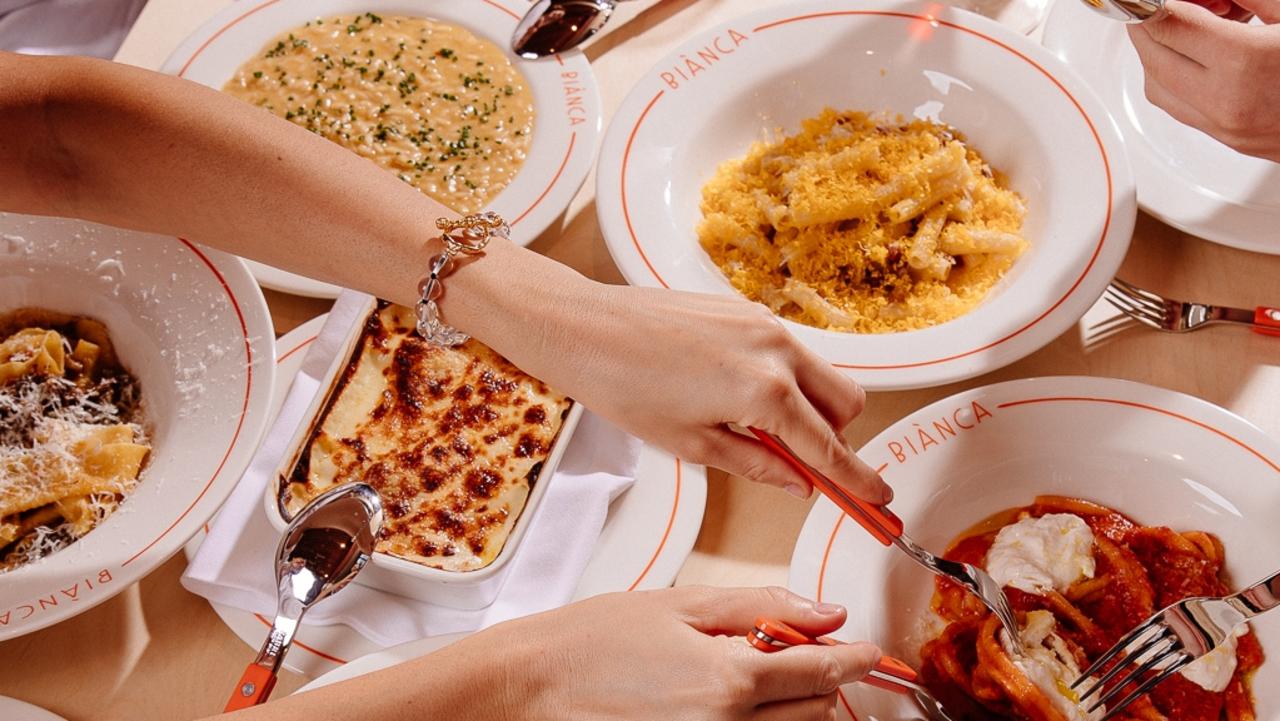 Dessert was the photo worthy lemon sorbet because I had seen the preparation earlier when we first took our seats. A lemon hollowed out and its flesh replaced by the icy tartness of the sorbet. Just enough sweetness so you didn't end up looking like Rene Zellweger's pursed lips and upturned nose after every mouthful. Finally for good measure we both polished off an affogato. It was my turn to pay and my friend pleads with me to give a tip to the waiter. If anytime called for a bit of tough love this was it. Reward him on his first day on the job and he will get conditioned that every customer is as easy going and generous as us two. The fact that he would have more woman throwing themselves at him than I would have in six lifetimes isn't enough. You want me to fatten his wallet too?
End of Visit #1
* * *
I am fortunate to have two friends that have impeccable music taste despite none of us being able to squeeze a note out of any instrument. As they live in the inner Western suburbs which is on the way to the Valley I am always more than happy to act as a chauffer and in return get exposure to new artists and music I would not discover left to my own devices. Today is different though, it our favourite band so the education I will be receiving on the subject of food, majoring in American BBQ. The teacher, BBQ Mafia, one of Brisbane's highly rated BBQ specialists. Rather than have a shopfront on the heavily trafficked streets these guys have commandeered the local AFL club at Coorparoo. It's the only good thing to come out of an AFL ground since Gary Ablett Snr (that's right the father, not the son. The hate mail from the AFL types will start in 3…2….1). We rock up to a handful of families who all look as if they lob up every Sunday for a smokey protein fix. Large trestle tables are shaded under a even larger marquee and a short drop punt away is our "entertainment". Some random is trying his hardest to make a recognisable tune out of an acoustic guitar – what should sound like "The Horses" is more like an actual horse with Streptococcus Equi. The questionable rendition was soon forgotten as a cloud of BBQ smoke hit my nostrils, my heart now beating ever so quicker.
The menu was limited to only a handful of items which streamlined the ordering process. We settled on the platter for three which gave us the chance to sample everything on a menu on a tray which was as big as the table itself. There was also a special, "The Mac & Cheese Burger" for a paltry $10. Thinking that I was miscomprehending the words and figures on the chalkboard, I was told they overcatered yesterday, leaving me as a winner today. To work up some hunger I decided to stretch the hamstrings on the playing field. Stealing a ball by tackling the kid who standing around waiting for his friends was the easy part (how that 8 year old kid is going to explain those grass stains on his new white shirt is going to be tricky), the hard bit was running towards the goal square without getting a stitch. Not wanting to break a sweat before the show that afternoon I decided to have a couple of bounces and and snap a banana kick from 40m. Needless to say the embarrassing result sent me heading back to the clubhouse with my ego bruised and belly craving the insides of those meat smokers.
The platter for three was as big as The Centre Square, a mass of meat and various sides arranged in cups for ease of delivery. Mac & cheese, pickles, chilli with chunks of beef, potato salad, creamed corn, sausage and brisket meant that the platter for three could have easily fed everybody at the surrounding tables. Instantly, I regretted ordering the burger which was yet to appear. At this rate I will have the meat sweats by the time we hit the Valley for the gig. "Leave the chips till last", "don't fill up on the potato salad", "the pickles are just filler….." Doesn't matter which way you attack it, there is still no way that the three of us could make it all disappear. BBQ is a refined art and the team at BBQ Mafia know their stuff. The only thing they could brush up on is portion control. I wouldn't be surprised if they are out of business by the time you read this, it doesn't make sense to serve a quarter of a cow and half a pig to each patron and expect to turn a profit. Nearly as many sides as octahedron.
* * *
The Brunswick Street Mall was busy due to the Brisbane Arts Design Festival which was in full swing. Laid out in front of the impressive Fortitude Valley Music Hall was a dance floor which could have been the stage for a game of oversized chess. Thankfully it was something less intellectual and more fast paced, a dance off between two B-Boys. For those unfamiliar with the last portion of the previous sentence, do not fear I have not had an aneurysm, think breakdancing and your will be near the mark. One breaker (apparently the singular noun according to the word on the street) would lay down a series of moves and then give his fellow breaker a chance to retort by showcasing their latest moves – most of which were head spins and the like. Us punters in the crowd judge the winner by our reactions. How hard could it be? I lowered my jeans so that half my arse was hanging out, cracked my knuckles and neck, took my mixtape out of the back pocket and then took centre stage under my street name, B-Rad. My Airfreezes, Elbow Hops and Head Slide had the crowd whipped into a frenzy but it was my signature Suicide Rubberband finale that had mouths agape. I even surprised myself, it could have been the additional energy from the earlier BBQ? Who knew that someone with my frame could move in such a way? In circumstances like this it is important to remember the golden rule of entertainment, leave the crowd wanting more. The raucous cheers were left ignored as I clutched at both hamstrings and gingerly headed down Ann Street. Couldn't wait around and claim my prize, we had a gig to catch. At least my display gave me an opportunity to burn some of those Coorparoo calories.
* * *
Anytime my favourite band come to town it is a near religious experience. Unlike previous gigs, COVID has meant a reduced capacity resulting in two shows on the same day, back to back at The Zoo on Ann Street. Being a Sunday I opted for the matinee show which kicked off at the most unrock and roll time of 3pm. This will be one of the band's first gigs in over a year and part of a tour celebrating You Am I's 11th album (and #2 on the ARIA charts). Unlike most of the punters who want to hear the hits and singles from their thirty year span, I have appendages crossed for a cavalcade from the new album and the more obscure songs from the back catalogue. Restrictions meant I was unable to setup camp in the front row as normal so I stood near the sound desk where I could get a glimpse of the setlist to see what songs were next up in their celebrated musical cannon. For the next two hours and twenty minutes I was a musical fortune teller, able to predict everything other than sun blinding me as it set in the west.
Satisfied patrons had smiles tattooed on faces and I joined to masses heading to the merch desk to grab some keep sakes. Before being farmed out on the street as the venue did the cleaning prior to the night session, I had just enough time to grab a shirt and a You Am I baby outfit. Before you jump to conclusions and bombard my inbox it is not for me, but for the next baby to appear amongst my circle of friends. There are two couples that will virtually giving birth at the same time but judging the craftsmanship of this garment they should strongly consider inducing an early labour. You'd want your kid to have all the advantages it could in life I would have thought?
If you were comparing fuel economy on the way home with previous trips from the Valley, the mathematician with the thickest glasses would be at a loss to explain the discrepancy. Even if I blurted out the answer, "Meat" with my last remaining breath there would still be more head scratching than a lice outbreak at a primary school. Maybe they will name a physics theory after that superhuman digestive effort?
* * *
DETAILS
Visit 1 – Bianca: https://biancarestaurant.com.au/#book-and-menu/menu, Fortitude Valley (Italian)
Visit 2 – BBQ Mafia: https://www.barbecuemafia.com.au/, Coorparoo (American BBQ)
Visit 2 – The Zoo: https://www.thezoo.com.au/, Fortitude Valley (Music Venue)
Visit 2 – Netherworld: https://www.netherworldarcade.com/, Fortitude Valley (Arcade & Bar)